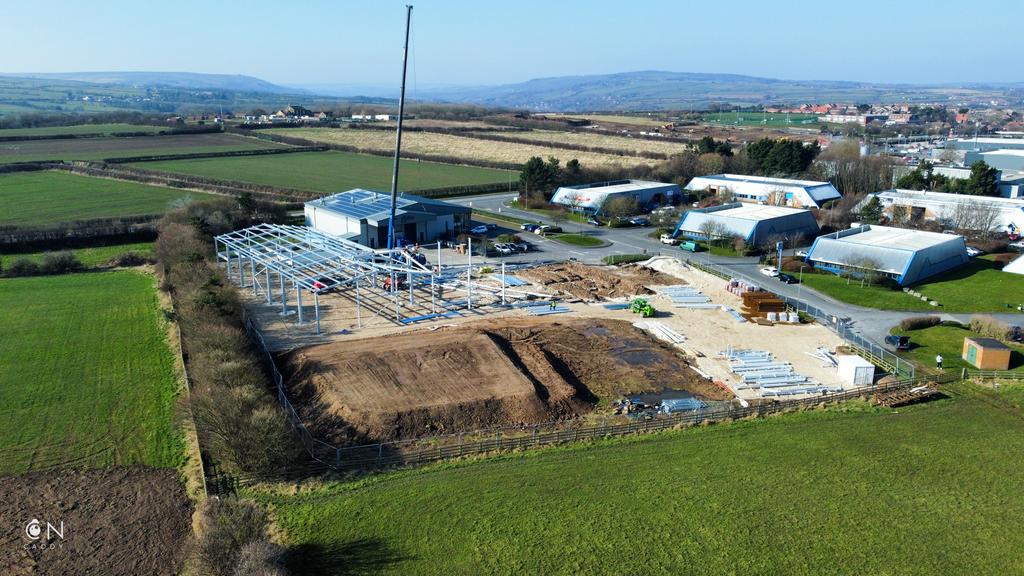 Written by Alyson Jackson
Spring arrived and so did the steel framework for the new bakery build at Enterprise Way, Whitby. A sight to behold as the huge crane reached for the sky - with the supportive aroma of Shah ginger biscuits filling the air - as it skilfully swung the steel frame into place.
A milestone in the build.
Nick Botham, Company Chairman and build supervisor, said: "It's fair to say that we have a bakery skeleton!"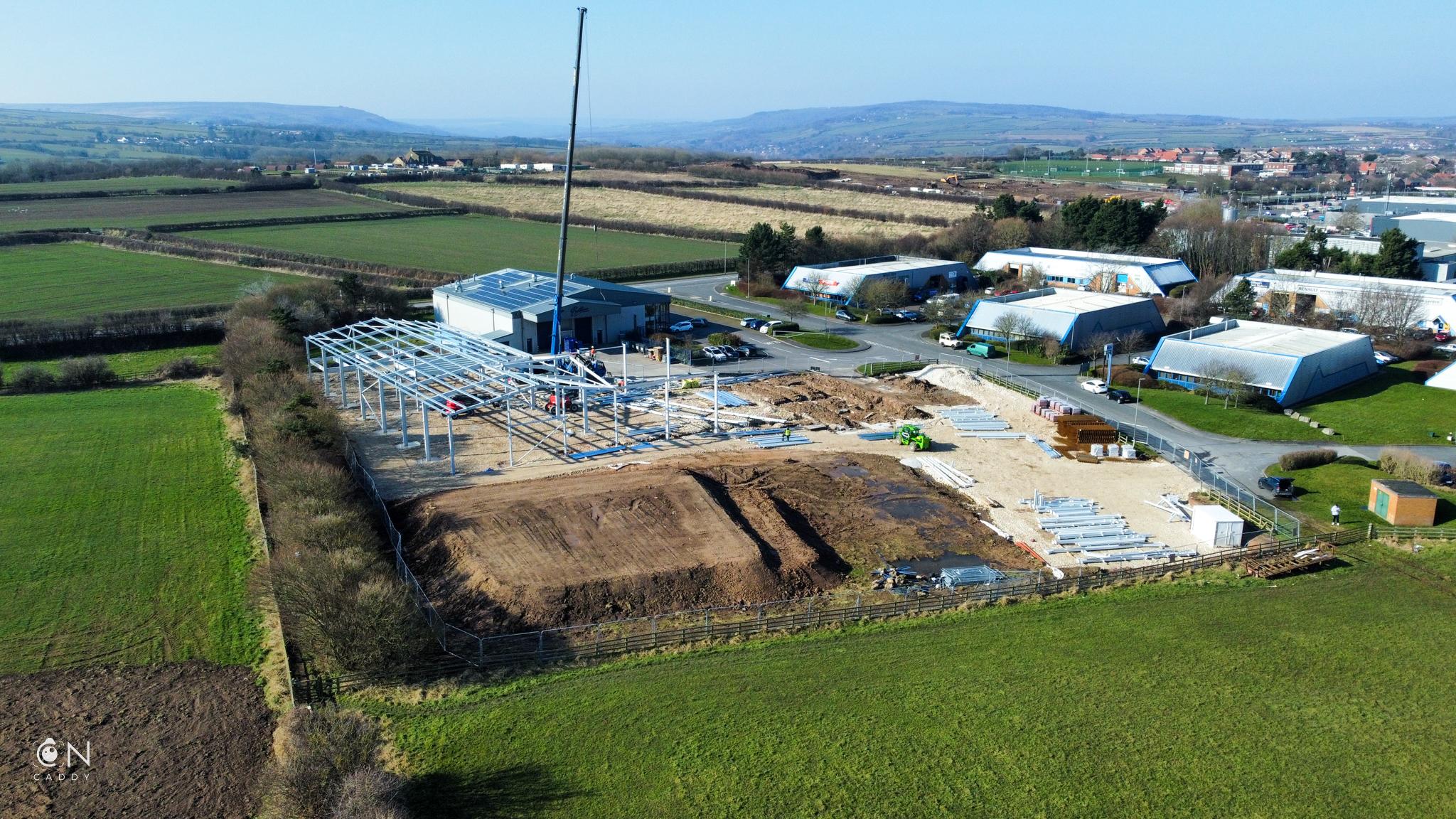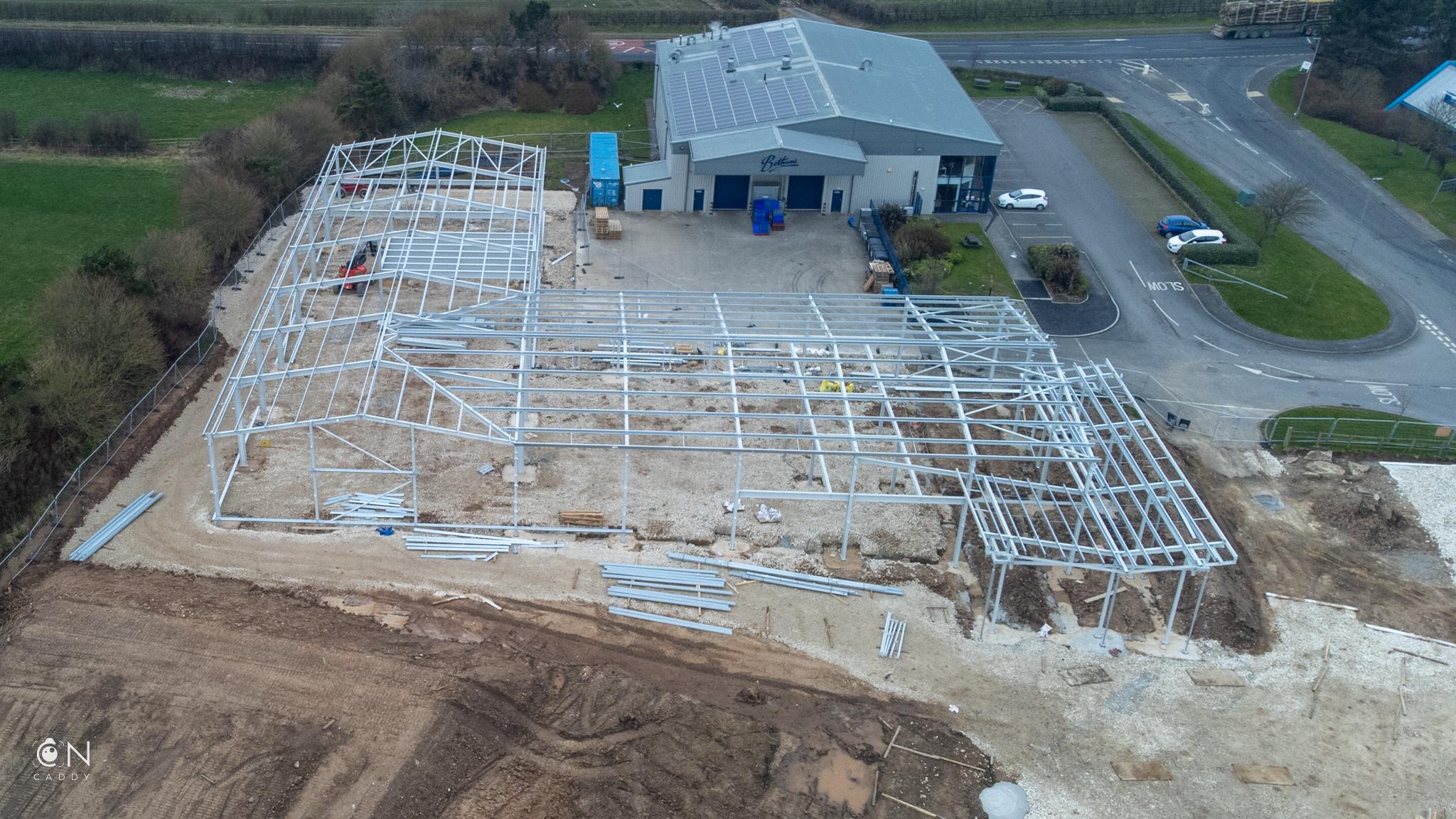 Enterprise Way new build steel framework, March 2022 Photo credit Chris Caddy PhotographIn February 2022, the land was prepared at the new build site and we swapped our usual delivery of flour for steel framework. This delivery was by far our heaviest to date - weighing in at a massive sixty tonne which was delivered to site in three loads! The new bakery will be approximately 1640 square meters (17,653 square ft) which includes the bakery, shop & tea room - plus offices and storage on mezzanine floors.
Jonathan Botham, Company Director, says: "The space that the new, purpose-built bakery will give us is game-changing for production. We can finally have the required length for production runs and position crucial equipment, such as provers and fridges, in logical positions - actually, we are just ecstatic that full production will be on the same floor!"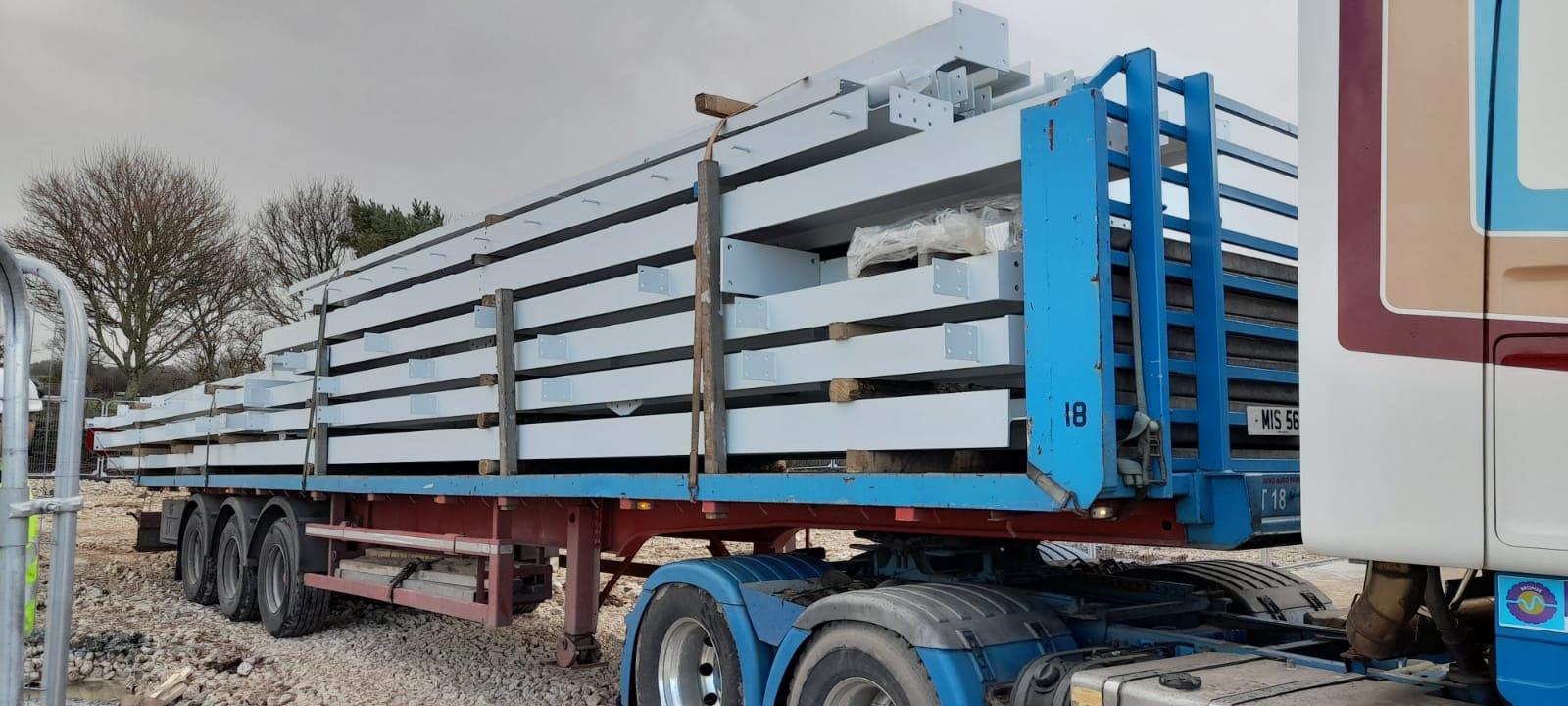 Not our usual delivery of flour!The new bakery is purpose-built which means the steel framework was manufactured to fit specific dimensions therefore precision is crucial. Pictured below are the bolt boxes which are part of the underpinning. They are sunk into big holes before being secured in place with concrete. Each bolt is pre-drilled and sized to precision to fit the steel framework. They are delivered with protective cones to provide approximately two centimeters of 'wiggle' room to ensure that the bolt successfully fits the framework when it reaches site.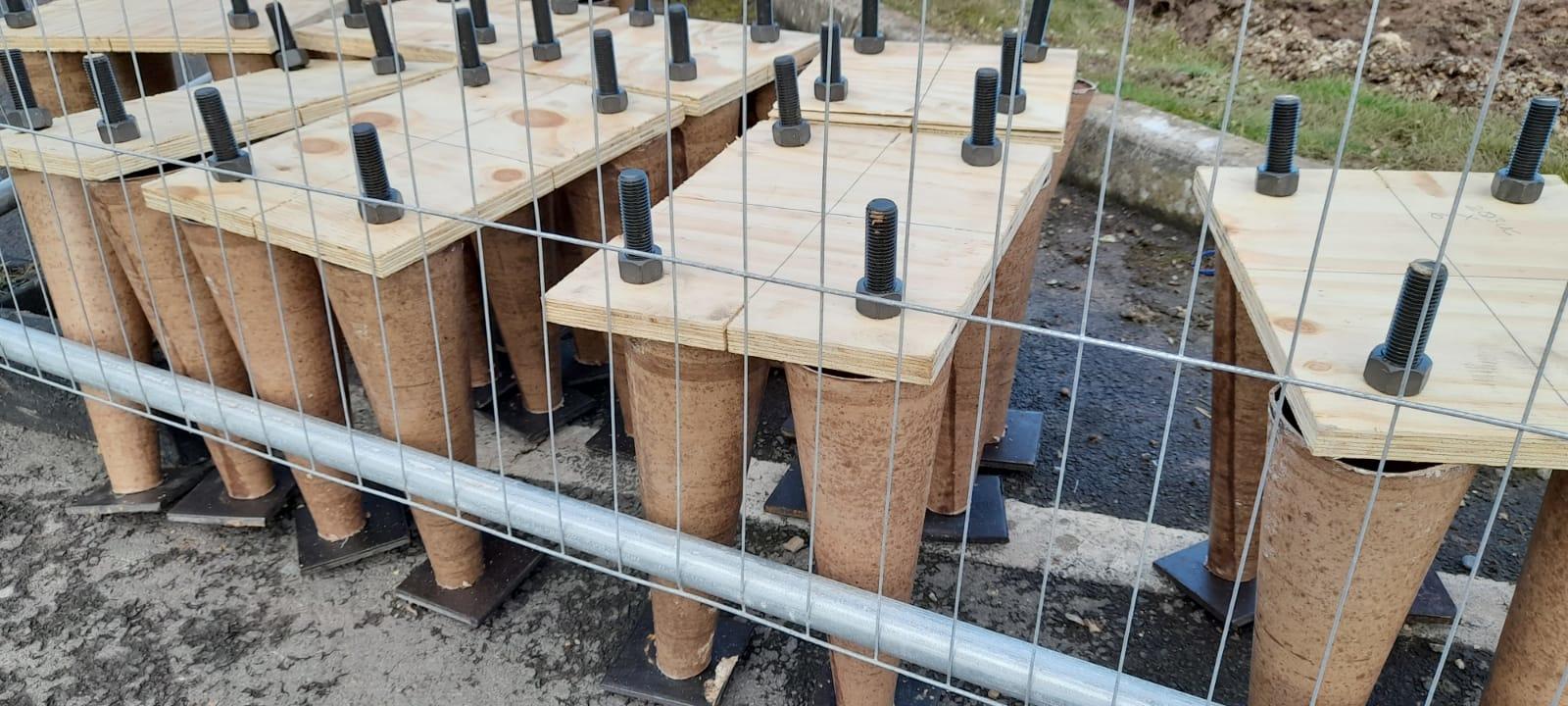 Bolt boxes with protective cones provide essential 'wiggle' room.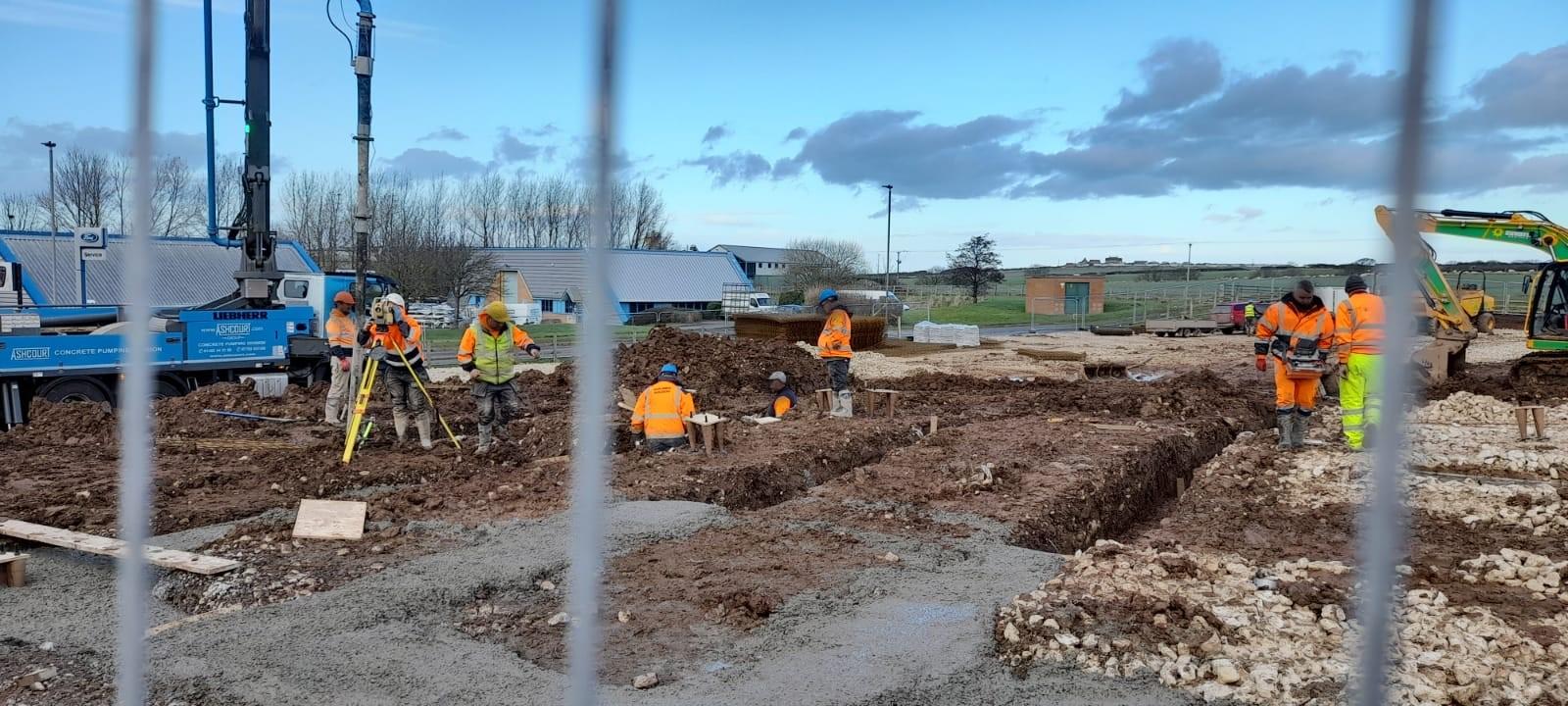 GPS is utilised on-site as precision is key.
The steel skeleton in the aerial shot below will house the new bakery, which is priority in stage one of the build, and it will include rooms such as confectionary, pastry, bread and goods-in. It will also accommodate the ovens, but is the new build making our family bakers feel hot under the pressure?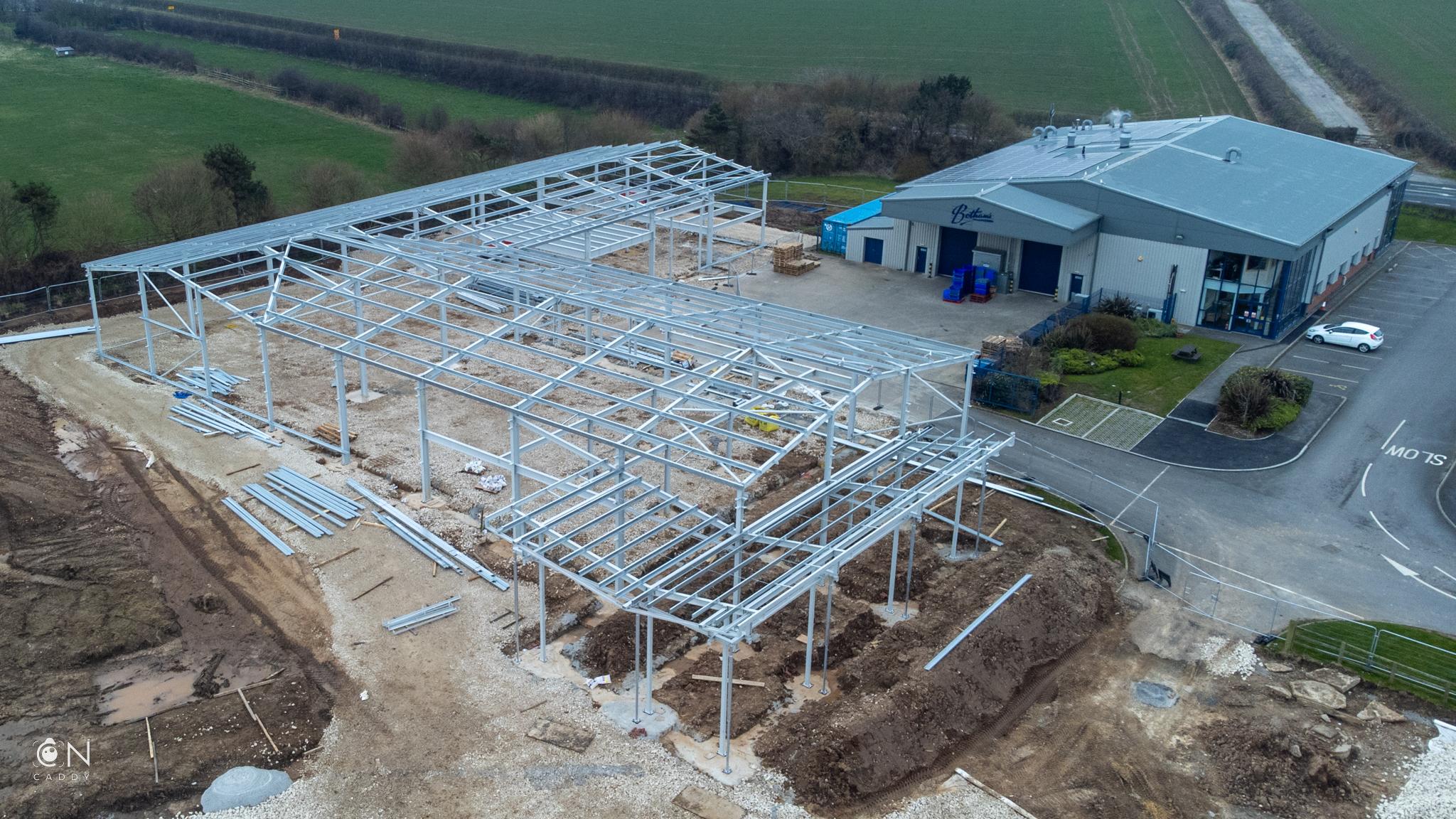 Aerial shot of Enterprise Way new build - March, 2022 (Photo credit Chris Caddy Photography)
Jonathan Botham, Company Director, says: "Designing the new bakery was painstaking, but in a good way - from each socket to sink, we definitely felt the pressure to 'get-it-right'. Generally speaking, we started with the production layout as we currently have it at Skinner Street bakehouse then we made it more logical and then better. The new build had to fit around the existing yard space at Enterprise Way so this guided the design to a certain extent, and, as this is a huge investment, we also tried to be economical with design. If I never have to roll a rack of buns down a slope or wait for a slow and old internal lift at 4am ever again then it is worth the pressure!"
So, what is next for the new build?
Nick Botham, Company Chairman and build supervisor, said: "Next, the steel framework will be finalised before work commences on drainage and groundwork. After that, the roof will be on and the floor laid before the exterior walls are put in place."
In conclusion, Nick adds: "We are delighted with the progress of the build to date - we are on track! It has been a pleasure to welcome skilled contractors onto site and see the daily developments. We've had some great chats about the build and about lunches - always great to hear someone talk with enthusiasm about their first experience of Botham's bakes and how thrilled they are about not having to take a pack-out!"