David Atherton, 2019 GBBO Winner, joined us for a Whitby Lemon Bun masterclass!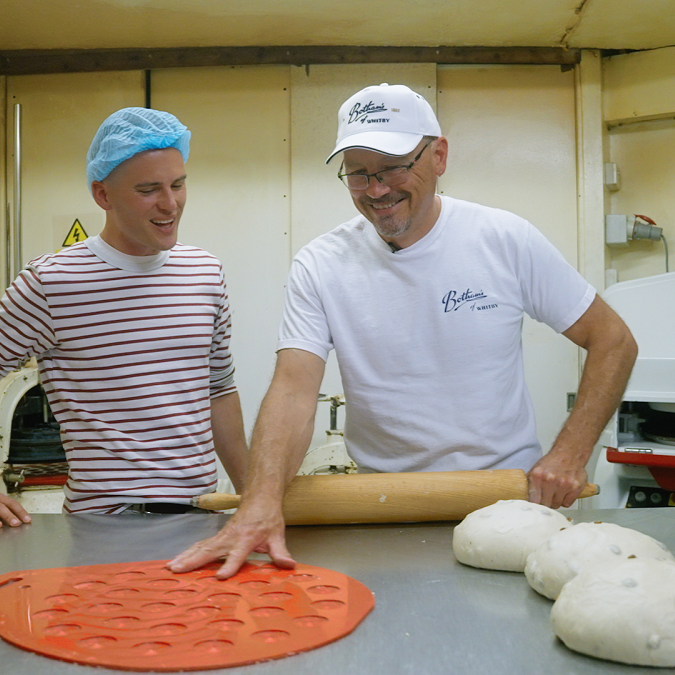 Written by Alyson Jackson
We were delighted to welcome 2019 Great British Bake Off winner and local lad, David Atherton into our Skinner Street bakehouse for a Whitby Lemon Bun masterclass as part of North York Moors Britain's Capital of Cake celebration.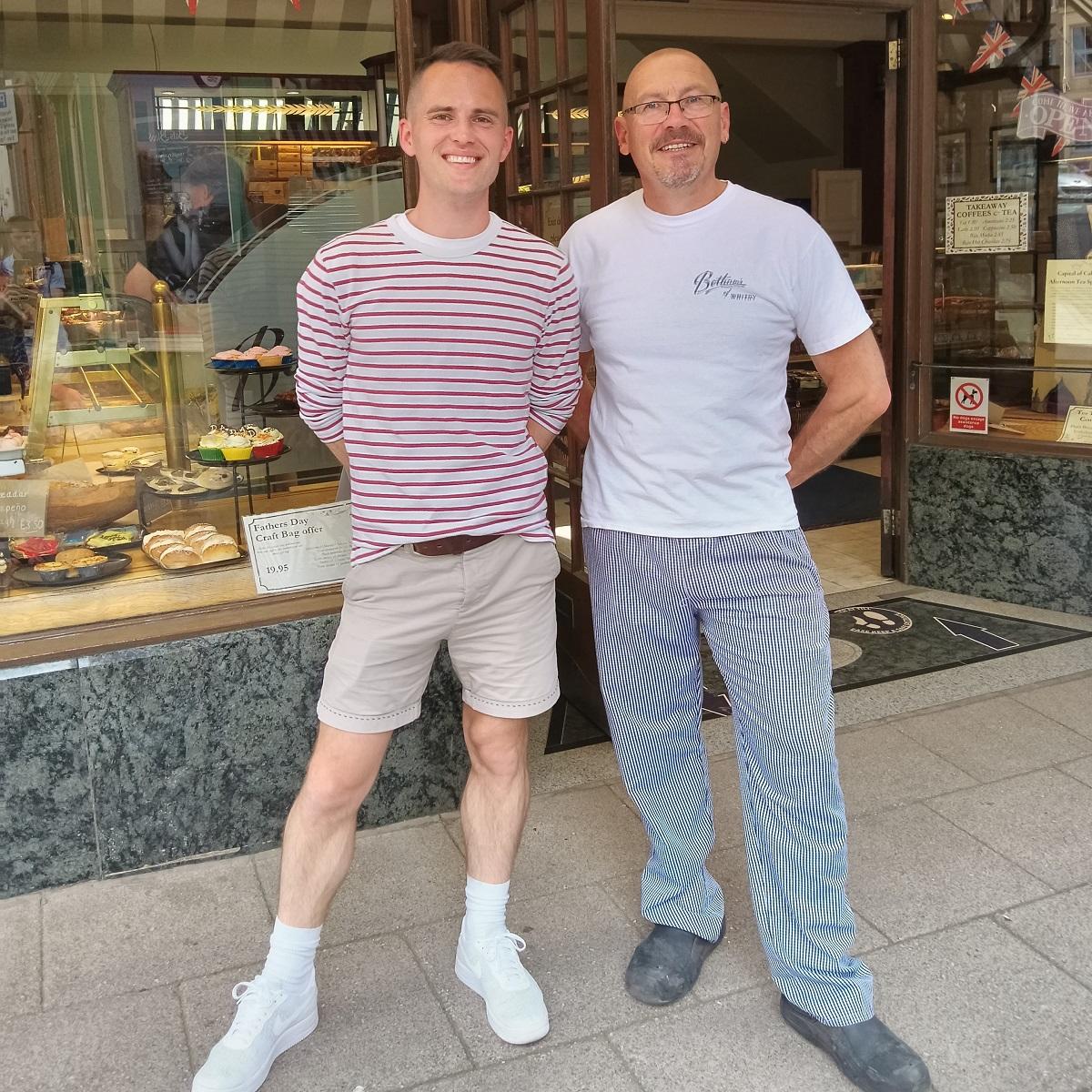 David Atherton with family baker Jo Botham outside Skinner Street Shop & bakehouseDavid Atherton was born and raised in Ruswarp, North Yorkshire and considers Whitby to be his hometown. When North York Moors told David he would be filming with Botham's he did not hesitate in declaring Whitby Lemon Buns and Shah Ginger Biscuits as his all-time-favourite Botham's bakes! David features in all four Capital of Cake films released on North York Moors Youtube channel. These films champion the adventures to be had in the National Park's and, of course, the baking delights which feature on the Capital of Cake map. We were delighted to be a 'pin' on the map and to feature in Episode Four - watch in full by clicking here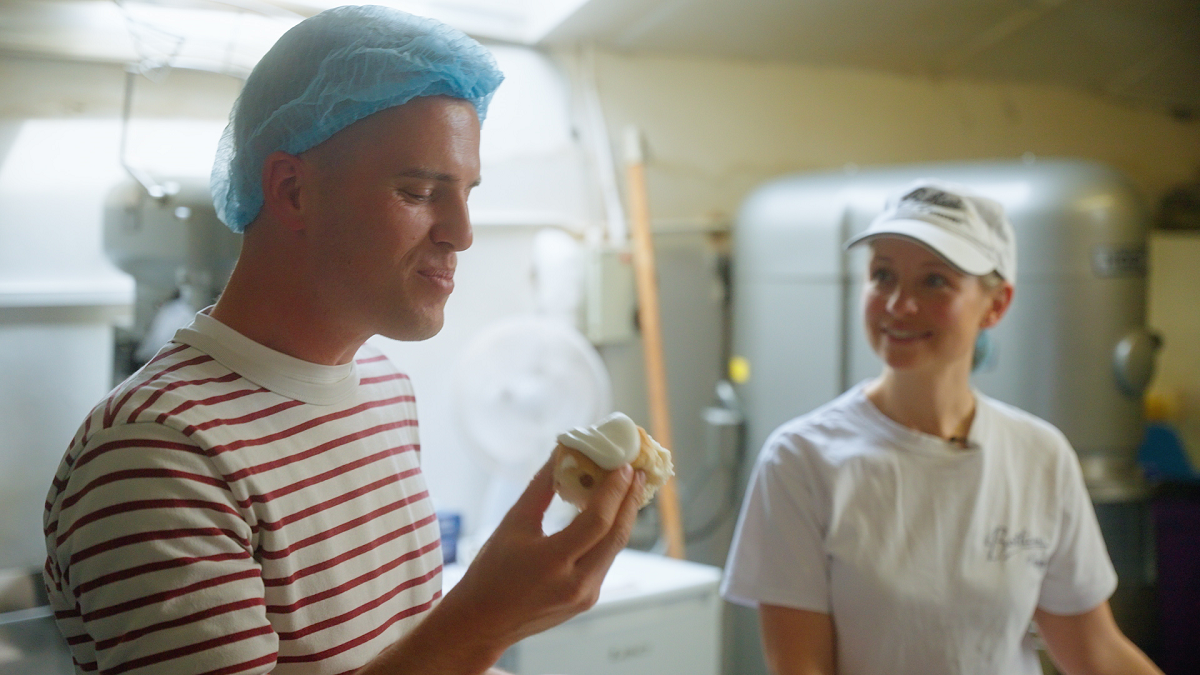 David eats a Whitby Lemon Bun his way (not the Whitby way!) with family baker Lois Borett
When David Atherton walked through the bakehouse door he was promptly tossed a baker's hat and, with expectations understandably high, his skills were put to the test! But how did David get on with the Whitby Lemon Bun baking, icing and - most importantly - eating process?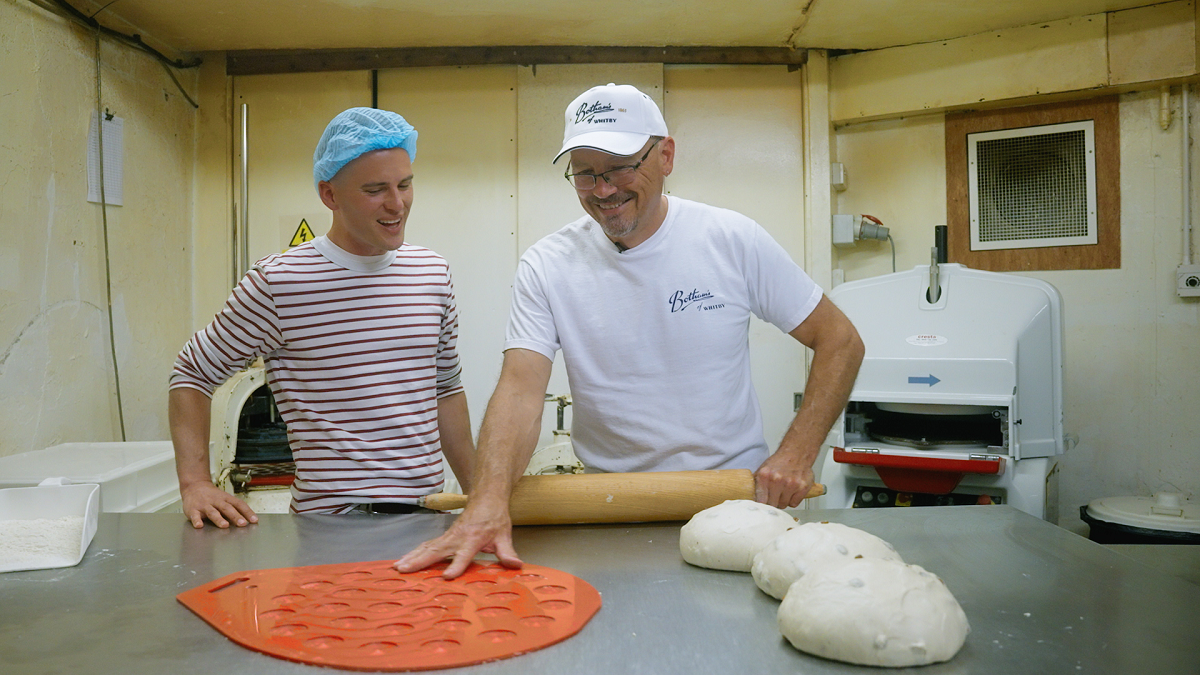 Jo Botham walks David through the kneading, rolling and shaping process
Of-course Jo Botham started David's masterclass with the recipe! But, true to our word, baking secrets are kept firmly under our hats, so we showed David one of the original Lemon Bun recipes; hand-written in a well-used, small, oblong baker's book, which would have been just the right size to slide into your pocket. Once David converted to metrics, he joined in the making process and was impressed with how we merge traditional equipment and baking methods with modern, large-scale equivalents. Not to mention the size of the rolling pin we use!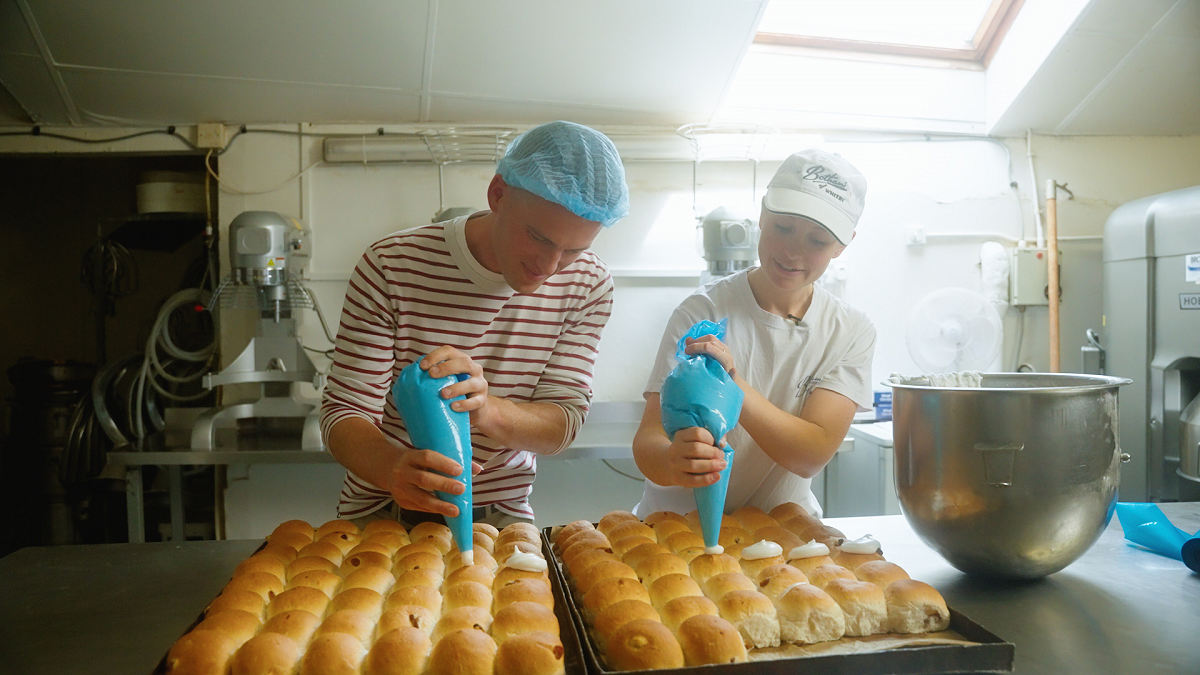 From rolling pins to piping bags, David took a cautious start to icing Whitby Lemon Buns; perhaps this was because he was piping alongside family baker Lois Borrett who tops our Whitby Lemon Buns at record speed - that's what happens when you ice two hundred plus buns daily!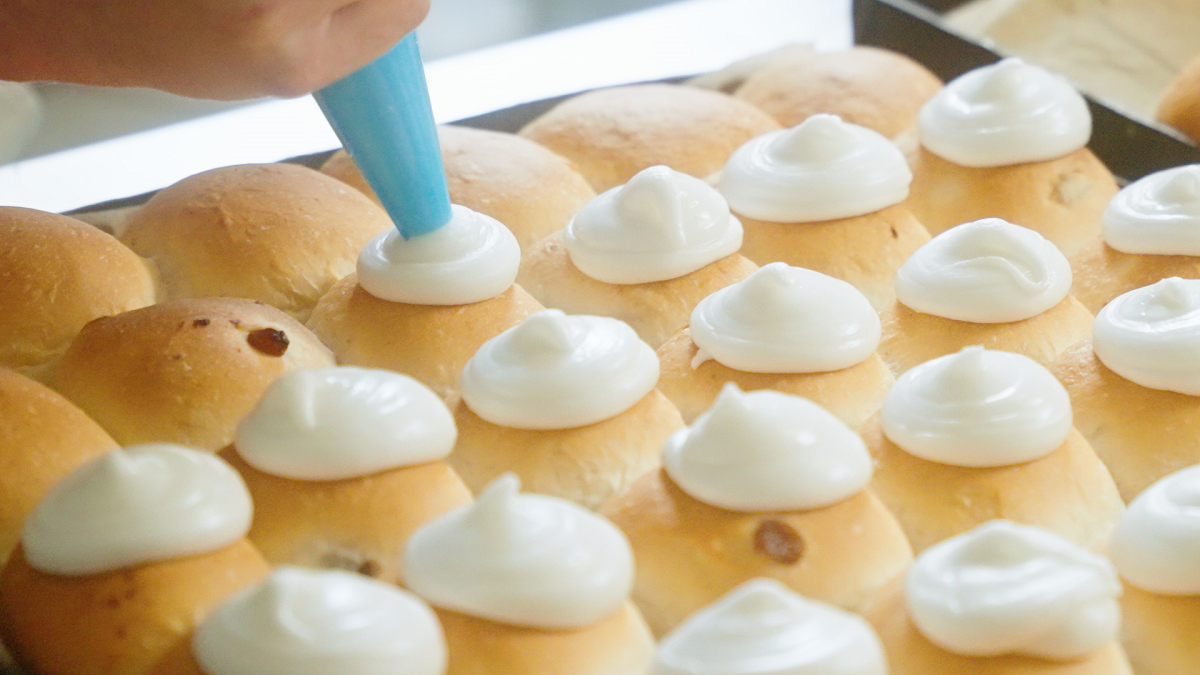 With his masterclass complete and his batch of Whitby Lemon Buns topped, David returned to his Mum's kitchen in Ruswarp to create a special birthday bake in celebration of the North York Moors National Park's 70th Anniversary. He drew upon inspiration taken from the landscape and the flavours found during his adventure in the National Park's, but what did he create?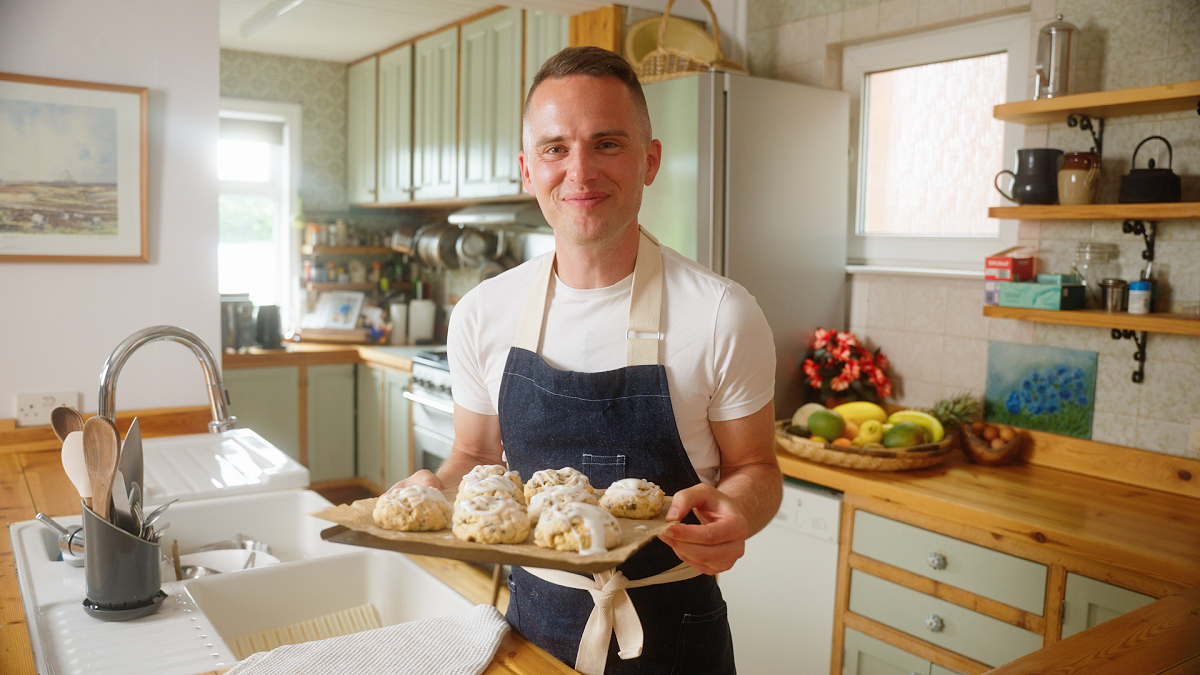 We eagerly anticipated David's special birthday bake and we were delighted to see the final result. David created a rock bun with a structure representative of the North York Moors coastline, and he flavoured his bake with rose water and honey. Finally, he topped his buns with a zesty lemon icing which is a nod to his childhood favourite Whitby Lemon Bun - they look delicious!
David, it was our pleasure to bake with you and we wish the North York Moors National Park's a very happy 70th Anniversary from the Botham family x
You can watch the episode in full by clicking here
Photo credit | Hewlitt & Walker